- Courses with Anne, Milena & Philip every Wednesday in the oriental dance studio!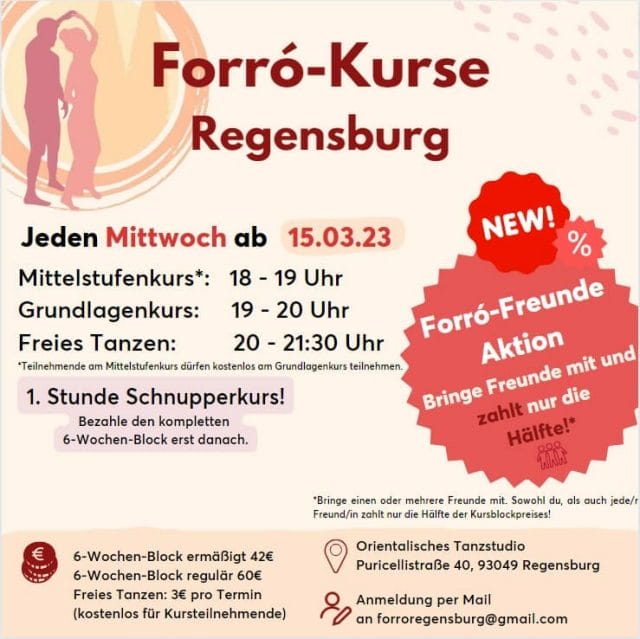 Das ehrenamtliche Team um Anne, Milena, Philip und Co von Forró Regensburg e.V. gibt immer Mittwochs Forró-Kurse. Im Stadtpark (Sommer) oder im orientalischen Tanzstudio in der Puricellistraße (ganzjährig)!
Kurszeiten (Stand Dezember), immer mittwochs (Einstieg immer zu Beginn eines Blocks möglich. Meldet Euch im Kontaktformular, um zu erfahren, wann es Schnupperstunden gibt):
– Forró Intermediate at 18:00
– Forró basics at 19:00
– free dancing from 8:00 p.m
There is also a dance evening at Swingmaniacs on a Friday every month. This dance evening includes a free trial lesson where newcomers can try out the Forró dance (without prior registration and without a partner)! If you are interested, please leave a message using the contact form below - there is also a WhatsApp group in which we can then add you.
Zur "Forró Regensburg" Facebook-Gruppe: https://www.facebook.com/groups/1684566475205101/
Auch um Euch für unseren Newsletter anzumelden, schreibt uns bitte mit dem Stichwort "Newsletteranmeldung" in unstenstehendem Kontaktformular!
Newsletter registration or message to Forró Regensburg eV